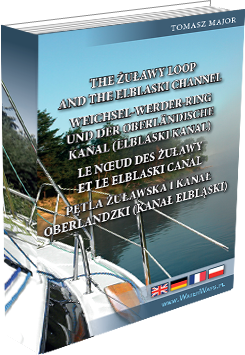 Weichsel-Werder-Ring und der Oberländische Kanal (Elblaski Kanal)
Le nœud des Żuławy et le Elblaski canal
Pętla Żuławska i Kanał Oberlandzki (Kanał Elbląski)
Nogat river, Nogat – Warsserstrasse, Nogat - voie navigable, Droga wodna Nogatu
Elbląg river, Fluss Elbląg, Elbląg rivière, Rzeka Elbląg
Szkarpawa river, Szkarpawa-Fluß, Szkarpawa-rivière, rzeka Szkarpawa
Vistula river, Weichsel, Vistule, Wisła

The Żuławy Loop is a very attractive waterway connecting the Vistula, Martwa Wisła, Szkarpawa, Wisła Królewiecka, Nogat, Wisła Śmiała, Święta – Tuga and Motława rivers, the Jagielloński Canal (Kanał Jagielloński), the Elbląg and Pasłęka rivers, and the Vistula Lagoon. Depending on the route, the route is about 150-175 km long, and all of the waterways in the region account for just over 300 km.

Der Weichsel-Werder-Ring ist eine besonders attraktive Wasserstraße, die das Fahrwasser der Weichsel, der Toten Weichsel (poln. Martwa Wisła), der Elbinger Weichsel, der Königsberger Weichsel (poln. Wisła Królewiecka), der Nogat, der Kühnen Weichsel (poln. Wisła Śmiała), der Tiege (poln. Święta – Tuga), der Mottlau (poln. Motława), des Jagiellonenkanals (Kanał Jagielloński) und der Flüsse Elbing (poln. Elbląg) und Passarge (poln. Pasłęka) wie auch des Frischen Haffs (poln. Zalew Wiślany) verbindet. Der Ring selbst umfasst je nach ausgewählter  oute
ca. 150- 175 km und alle Wasserstraßen dieser Region sind etwas mehr als 300 km lang.
Le noeud des Żuławy est un itinéraire de plaisance extraordinaire reliant entre elles les voies de navigation de la Vistule et de son bras mort, la Szkarpawa, la Królewiecka, le Nogat, la Śmiała, la Święta-Tuga, la Motława, le canal Jagellon, l'Elbląg, la Pasłęka et les eaux de la lagune de la Vistule. Le noeud proprement dit représente – en fonction de l'itinéraire choisi – un parcours de 150 à 175 kilomètres, mais toutes les voies navigables de la région comptent un peu plus de 300 kilomètres.

Pętla Żuławska to niezwykle atrakcyjna droga wodna łącząca ze sobą szlaki wodne Wisły, Martwej Wisły, Szkarpawy, Wisły Królewieckiej, Noga- tu, Wisły Śmiałej, Świętej – Tugi, Motławy, Kanału Jagiellońskiego, rzeki Elbląg i Pasłęki, a także wody Zalewu Wiślanego. Sama pętla to w zależności od wybranej trasy ok. 150-175 km, natomiast wszystkie drogi wodne regionu liczą nieco ponad 300 km.
TOMASZ MAJOR
WWW.TOMASZMAJOR.COM
This guide contains an outline and detailed mileage, as well as useful tips for cruising.
Der Reiseführer enthält detaillierte Angaben und Abbildungen sowie praktische Tipps.
Le guide comprend une carte et un kilométrage détaillé, ainsi que des considérations pratiques sur la navigation.
Przewodnik zawiera schemat i szczegółowy kilometraż, a także praktyczne wskazówki.
12,5 cm x 20,5cm 52 pages