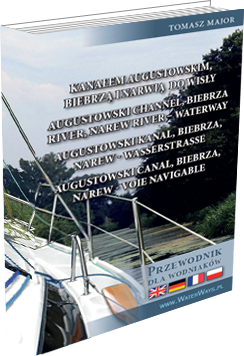 AUGUSTOWSKI CHANNEL, BIEBRZA  RIVER, NAREW RIVER – WATERWAY
AUGUSTOWSKI KANAL, BIEBRZA,  NAREW - WASSERSTRASSE
AUGUSTOWSKI CANAL, BIEBRZA,  NAREW - VOIE NAVIGABLE

Augustowski Channel, Biebrza River, Narew River – waterway: One of the most beautiful waterways in Poland. Wildlife and many birds.

Augustowski Kanal, Biebrza, Narew – Wasserstrasse: Eine der schönsten polnischen Wasserstraßen. Wilde Natur, viele Vogelarten.
Augustowski canal, Biebrza, Narew - voie navigable: L'un des plus beaux itinéraires de navigation en Pologne. Nature sauvage, nombreux oiseaux.

Droga wodna Kanału Augustowskiego, Biebrzy i Narwi: Jedna z najpiękniejszych dróg wodnych Polski. Dzika przyroda, mnóstwo ptaków.
TOMASZ MAJOR
WWW.TOMASZMAJOR.COM
This guide contains an outline and detailed mileage, as well as useful tips for cruising.
Der Reiseführer enthält detaillierte Angaben und Abbildungen sowie praktische Tipps.
Le guide comprend une carte et un kilométrage détaillé, ainsi que des considérations pratiques sur la navigation.
Przewodnik zawiera schemat i szczegółowy kilometraż, a także praktycznewskazówki.
Przewodnik dla wodniaków
12,5 cm x 20,5cm 32 pages