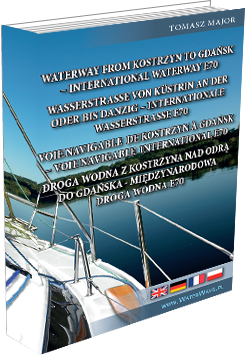 Wasserstrasse von Küstrin an der Oder bis Danzig – Internationale Wasserstrasse E70
Voie navigable  de Kostrzyn à Gdańsk  - Voie navigable  international E70
Droga wodna z Kostrzyna nad Odrą do Gdańska - Międzynarodowa Droga Wodna E70
Warta river, Notec river, Bydgoski channel, Vistula river, The Żuławy Loop and the Elblaski Channel
Warthe, Notte, Bydgoski Kanal, Weichsel, Weichsel-Werder-Ring und der Oberländische Kanal (Elblaski Kanal)
Rivière Warta, Rivière Notec, Bydgoski Canal, Vistule, Le nœud des Żuławy et le Elblaski canal
Drogi wodne Warty, Noteci, Kanału Bydgoskiego, Wisły, Pętli Żuławskiej i Kanału Elbląskiego (Oberlandzkiego)

This is one of the most popular water ways in Poland used by foreigners It is also one of very few routes that can be done from start to finish by a boat with a scantling draft greater than 30 cm. You are travelling on picturesque Warta river, Notec river, Bydgoski channel, Vistula river, The Żuławy Loop and the Elblaski Channel to Gdańsk, Elbląg, Malbork, Ostróda, Iława.

Es ist eine der populärsten Routen für ausländische Touristen unter den polnischen Wasserstraßen und gleichzeitig eine von wenigen, die man auf der gesamten Strecke mit Wasserfahrzeugen mit einem Tiefgang von mehr als 30 cm befahren kann. Sie führt durch grüne Warthe, Notte, Bydgoski Kanal, Weichsel, Weichsel-Werder-Ring und den magischen Oberländischen Kanal (Elblaski Kanal) nach Danzig, Elbing, Marienburg, Eylau und Osterode.
C'est l'un des itinéraires les plus freguentés par les étrangères des voies de navigation polonaises, et en même temps l'un des rares dont tout le parcours soit praticable pour les embarcations à tirant d'eau de plus de 30 cm. Sur la Rivière Warta, Rivière Notec, Bydgoski Canal, Vistule, Le noeud des Żuławy et le Elblaski canal vous arrivés à Gdańsk, Elbląg, Malbork, Ostróda et à Iława.

Jest to jeden z najchętniej uczęszczanych przez cudzoziemców szlaków na polskich drogach wodnych. Jednocześnie jest to jeden z niewielu szlaków, który w całości można pokonać jednostkami o zanurzeniu większym, niż 30 cm. Drogami wodnymi Warty, Noteci, Kanału Bydgoskiego, Wisły, Pętli Żuławskiej i Kanału Elbląskiego (Oberlandzkiego) docieramy do Gdańska, Malborka, Elbląga, Ostródy i Iławy.
TOMASZ MAJOR
WWW.TOMASZMAJOR.COM
This guide contains an outline and detailed mileage, as well as useful tips for cruising.
Der Reiseführer enthält detaillierte Angaben und Abbildungen sowie praktische Tipps.
Le guide comprend une carte et un kilométrage détaillé, ainsi que des considérations pratiques sur la navigation.
Przewodnik zawiera schemat i szczegółowy kilometraż, a także praktyczne wskazówki.
12,5 cm x 20,5cm 70 pages