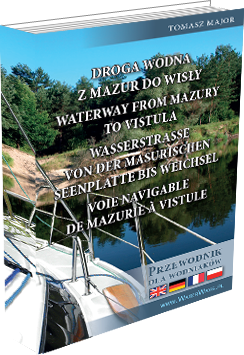 WATERWAY FROM MAZURY TO VISTULA  (LAKES, CHANNELS, PISA-RIVER,  NAREW-RIVER)
WARSSERSTRASSE VON DER MASURISCHEN SEENPLATTE BIS WEICHSEL (SEEN, KANÄLE,  PISA, NAREW)
VOIE NAVIGABLE DE MAZURIE À VISTULE (LACS, CANALS, PISA, NAREW)

The wide Narew river, the winding and narrow Pisa river, and lakes and canals connect the waterways in Poland and other European countries with the Great Masurian Lake District. A cruise from Warsaw takes about 5-7 days, and is interesting in terms of its natural and wildlife attractions.

Der breite Fluss Narew, der verworrene und schmale Fluss Pisa, die Seen und Kanäle verbinden alle Wasserstraßen Polens und Europas mit der Masurischen Seenplatte. Ein landschaftlich interessanter Ausfl ug in die Natur von Warschau dauert ca. 5 - 7 Tage.
Le large Narew, la Pisa étroite et sinueuse, les lacs et canaux rattachent tous les itinéraires de navigation de plaisance polonais et européens au pays des grands lacs de Mazurie. Depuis Varsovie, le voyage dure de 5 à 7 jours en traversant des paysages et espaces naturels inté- ressants.

Szeroka rzeka Narew, kręta i wąska rzeka Pisa, jeziora i kanały łączą wszystkie drogi wodne Polski i Europy z krainą wielkich jezior Mazurskich. Ciekawy krajobrazowo i przyrodniczo rejs z Warszawy trwa ok. 5-7 dni.
TOMASZ MAJOR
WWW.TOMASZMAJOR.COM
This guide contains an outline and detailed mileage, as well as useful tips for cruising.
Der Reiseführer enthält detaillierte Angaben und Abbildungen sowie praktische Tipps.
Le guide comprend une carte et un kilométrage détaillé, ainsi que des considérations pratiques sur la navigation.
Przewodnik zawiera schemat i szczegółowy kilometraż, a także praktyczne wskazówki.
Przewodnik dla wodniaków
12,5 cm x 20,5cm 32 pages